ANSI/ISEA High-Visibility Classes & What They Mean
Construction zones can be dangerous places. Whether you're working around heavy equipment or vehicle traffic, at night or in broad daylight, being visible at all times on a busy construction site is extremely important. High-visibility (hi-vis) apparel is designed to keep workers safe while they work in these situations. Understanding the type of high-visibility garment required for your job will ensure you're in compliance with regulations and, most importantly, safe while you're on the job.
The American National Standards Institute/International Safety Equipment Association (ANSI/ISEA) provides the industry standard on use of high-visibility safety apparel. These standards specify minimum areas of retroreflective material, location of that material, and special features of the apparel, and are outlined in the ANSI/ISEA 107-2010 publication, which many states abide by. Simply put, this establishes the guidelines for high-visibility safety apparel that allows motorists and equipment operators to see workers on construction sites, greatly reducing injuries and fatalities.
High-visibility apparel is organized into performance classes based on the level of visibility and safety they provide. Generally speaking, hi-vis apparel consists of three parts: a background material, a retroreflective material, and a combined performance material. Each part is highlighted in the image below.
ANSI/ISEA Hi-Vis Apparel Classes1
This post will discuss 4 different apparel classes: Performance Class 1, Performance Class 2, Performance Class 3, and Performance Class E. Remember to consult your employer for the specific gear preferred or required at your job site.
Performance Class 1
Apparel in this class is NOT acceptable to wear in work zones because it provides very little of the required fabric to differentiate a worker from his surroundings. It is only appropriate for off-road environments.
Example of Workers Benefitting from Performance Class 1 Apparel
Warehouse workers
Parking attendants
Delivery drivers
Performance Class 2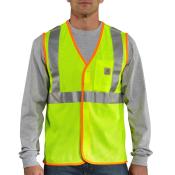 Performance Class 2 provides better visibility with additional coverage on the torso. It is more visible than Peformance Class 1. This type of apparel is required as a minimum for ALL workers within the right-of-way (ROW) of a Federal-aid highway. That includes workers exposed to traffic or construction equipment within that work zone.
Example of Workers Requiring a Performance Class 2 Apparel
Inspectors
Surveyors
First responders
Roadside volunteers
Airport baggage handlers
Mowers
Shop Performance Class 2 Apparel at Dungarees
Performance Class 3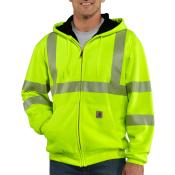 This class offers the greatest visibility in complex backgrounds and through a full range of body movements. It's required in highly congested areas where complex lane shifts or other busy work zones may exist. This class of apparel is especially useful at nighttime, around high-speed roadways, in urban areas or around high-crash areas. Performance Class 3 apparel is enhanced with the addition of background and reflective materials to arms and legs. As such, Performance Class 3 apparel has to include either sleeves or pants.
Example of Workers Requiring a Performance Class 3 Apparel
Flag operators
Construction workers
Utility operators
Emergency utility crews dispatched at night
Shop Performance Class 3 Apparel at Dungarees
Performance Class E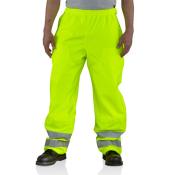 Performance Class E apparel includes waistband trousers or shorts and is not intended to be worn without Performance Class 2 or 3 apparel. If Performance Class E is worn with a Class 2 or 3 garment, the overall classification of the "ensemble" can be classified as a Performance Class 3 ensemble.
Shop Performance Class E Apparel at Dungarees
Enhanced-visibility
Enhanced-visibility garments are simply brightly colored garments of any color that have retro-reflective striping added. While enhanced-visibility garments aren't ANSI/ISEA rated, they are beneficial in lower-risk, lowlight situations where additional visibility may be necessary.
As a reminder, this post is only a guide for the various classes of high-visibility gear that exist in the construction and work zone industry. We highly recommend that you consult your employer for the specific class of high-visibility gear required or preferred on your job site.
---
1 Source: American National Standards Institute/International Safety Equipment Association, ANSI/ISEA 107-2010